The Wellington Urban Ultra - Starting a Grassroots Running Event from Scratch

Gareth Thomas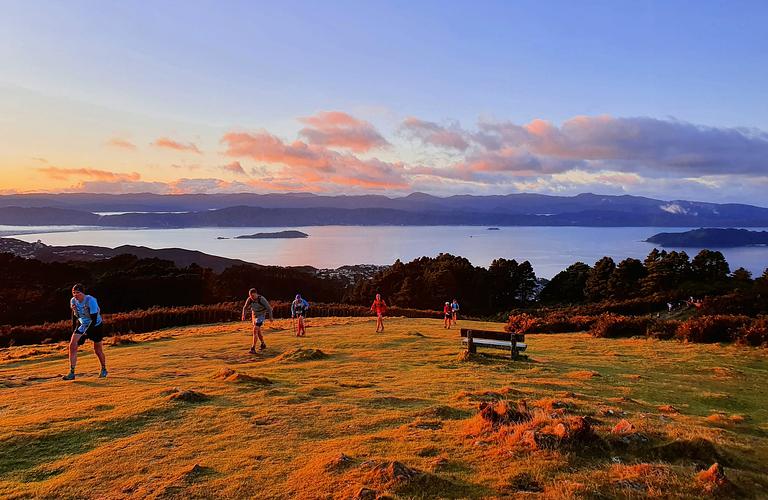 Dreamed up while running

I was out on one of the many trails around Wellington one day, visualising in my mind how to piece an event together. Running is a great place to meditate while pondering life and everything in between. I'm positive that many of the world's greatest decisions, and inventions have come about from someone out running and thinking up magic along the way. For me it was constantly thinking of ways to join up trails to make an Ultra running event. In order to do this, I needed to actually run all of the trails first!



I had been running around Wellington's trail network for a few years since arriving back in 2012 from years away living in Melbourne. I had come back to work at Weta Digital, and to have a lifestyle change. I had been working mainly as a Chef in Melbourne with some on and off film work thrown on for good measure. I was happy to come back to my hometown of Wellington though, as I was in my 30's and ready to settle down for a bit. 
A passion for running

I had been running since around 2006, and mainly around Melbourne, so relatively flat, and the majority on road/footpath and light gravel tracks. Nothing quite like Wellington's more diverse terrain of road, trails, mud, rocks, sand and everything else. I fell in love with the contrasting terrain and the closeness of that feeling of remoteness, whilst being so close to the city. I was home, and it really felt like being home. 
Not really knowing that many people in Wellington, I decided to join up to the local running group –
WoRM (Wellington Running Meetup)
, in 2013 it was mainly organised by Eva and her husband Brent. This couple had even had a running-themed wedding! I was made to feel welcome and found a great group of like minded souls. They not only enjoyed running, but enjoyed having a social beer or coffee afterwards, and were all quite high-achieving people. I've found that a lot of long-distance runners do fit into this category, along with needing a lot of mental and physical stimulation, and being outdoors slogging it out on the trails is the best place for us!
While I was working away at Weta, I was also out running on my lunch breaks. I needed it to get out of the office, and keep a mental and physical balance in my life. Some weeks we were working 80 hours, so any time I could strap on my runners and get out, I would. It was a busy time in my life that's for sure. I was working away, and not really doing much else. I did begin to enter events though, which kept me more goal-oriented and focused on training for these while I was out of the office environment. I ran the Wellington Marathon in 2014 and was happy with a 3:18 (I was aiming for a sub-3 but not to be!), but I was feeling a bit done with road running, and wanted more challenges on the trails. 

Drawing from the community to expand the concept 


I began running more trails that year and met another runner called Stu. We became quite close, ran a lot together and we both loved to have a chat. I brought up to Stu my idea of creating a trail running Ultra around the Wellington trails network, and he was very enthusiastic about it. We did end up sitting down together and I showed Stu my rough outline of the event, a 50km run starting at Khandallah and finishing at Mt Vic. At this stage, I had the route taking in the South Coast including running around the coast to Island Bay, and taking the Southern Trail up to Mt Albert from here. After Stu advised me that  there was 'too much road', I had to agree, and we came up with the alternative route which would take runners down Tip Track, and through Tawatawa reserve – the same as it is run today. 

The original recce of the course was in 2015 and was organised through the WoRM runners. There was a fairly small group of us setting off from Khandallah for the first WUU around the city. The recce ended up being a 50km course (with the 42km, and 62km being implemented for the inaugural year in 2016). The name WUU2K was not even cemented at this stage, as I remember talking about the possibilities of race names on the recce itself. Everyone running that day was feeling excited though. I could feel the buzz in the air of something special taking shape. The next step was just making it happen and doing the course justice! 
I wanted a Winter event as I felt like Wellington needed it, plus I also felt that if we kept the date over the weekend of Mid-July, we would be alright going forward. It became almost a superstitious thing for me to have the event bang-smack in the middle of Winter, so I have always tried to stick to this date for the WUU. Overall, it has been a wise choice apart from one event In 2021 which I will get into a little later. So, the date was set for 2016's inaugural WUU2K - Wellington Urban Ultra 2k (the 2K standing for 2000m of elevation gain over the 43km course) on July 17th. 
Overcoming challenges to make the event happen
Research
I set it all up in the first year, and to be honest didn't really know 100% what I was doing, so I did some research. I remember going to the
Tarawera Ultra Marathon
to run the 100k, chatting to its founder Paul Charteris about it all, and getting hints about what to add to the website, and the basics around trail running events. I had worked at events before, but more in the hospitality side of things, never setting up an entire event by myself!  
Promotion & registration management


First step was getting a
website
up and running. The only other way I promoted the event back then was via word of mouth and
Facebook
. It did help having the WoRM group members sharing it out and about. I set up the first WUU site using the website builder Weebly and this did the job, and has done the job ever since. I like to be able to add or remove/edit content myself, so have kept the original site going. I had no payment gateway in the first year, and so just had my bank account details that entrants simply deposited the money in, I cross-checked their names and they were registered. I added them to the starters list which slowly grew to 124 or so for the first race day 2016. 
At the same time, I was up to my neck in work though. Weta was cranking and I was constantly chasing my tail to get the WUU sorted on top of it all. I had emails coming and going, volunteers to organise, permits and concessions to get sorted, a new course to make sure was up to scratch for race day, among many other elements to lock in. At the end of the day it all turned out remarkably well, but the stress behind the scenes was intense to say the least. 

Learning and refining


Stu came on board to mark the course in the first year with the help of volunteers to head out and get the course marked the day before race day. We didn't have any budget really for the event, so ended up inheriting some yellow ribbon from somewhere, and decided this would do for the course marking. Turned out, it blended in with the gorse flower and caused a few issues. We had a couple of runners actually miss a major turn at the Wind Turbine which meant they ended up in Aro street in the city, and had to taxi to the finish line. I suppose these things do happen in events, so it was a good experience for me as a budding Race Director to take notes for future events. Yellow tape = No!
Despite a few areas that definitely needed some refining, the inaugural event went down with positive feedback, and the event is constantly reviewed after each iteration to refine areas that need refining. The race medals for example. For year 01 I found a guy at Weta who had a 3D printer, so mocked a design up myself, sent it to him and he got them printed and sent to me. I ordered rings through Trademe, got some WUU2K ribbons printed up, and managed to get a very kind friend to come and sew them together. This worked a treat until the day before race day when I realised that we were about 20 medals short, so had to make a last minute phone call to Jane (thank you Jane!) who came running and stitched the remaining medals together for me.



Then there were the prizes

In my mind I had calculated all placed prizes, had them at home to collect after the race so we could fly home, pick them up and then get to the prize giving at Tuatara brewery in time for 7pm. Both myself and my partner Megan were a bit tired on getting home to retrieve the prizes before going to Tuatara. Megan asked me if they were all allocated. As I sat down to go through 1st, 2nd 3rd prize, I realised that I had mucked it all up somehow and missed some out. "Are you kidding me?!" Megs asked as I sat and gazed at the list in front of me. We ended up going around in circles for the next 20 minutes trying to work out what the hell was going on. It's amazing when you're extremely tired, how badly it affects your mind. It was almost comical trying to figure out who was getting what, but we got there in the end, packed up and bolted to Tuatara Brewery. 


Victory!

The place was PACKED! I was feeling highly frazzled walking through the runners cheering away and enjoying the high from the day. It really was an amazing feeling to pull it all off, give these folk a good day out, and then celebrate with a few beers afterwards. We were about 30 minutes late but nobody seemed to mind. We got through prizegiving, and enjoyed the evening surrounded by a decent group of happy runners. After this, it really cemented the WUU for Wellington. Since then, we've made changes here and there, and have now got the 21km, 43km and 62km categories. We've seen runners tell their own personal stories through the WUU and it's made me feel so proud of what I've achieved to help others achieve their own goals. The WUU2K is a family, along with the entire running community. It is there to bring people together, to push through some barriers, and help people achieve the somewhat unachievable. 




Prevailing despite challenges

Personal health issues


I was diagnosed with a Squamous Cell Carcinoma (skin cancer) on my face at Christmas time in 2020. Perfect timing after such a bizarre year of Covid and the prevailing dramas it entailed. We had also cancelled the WUU2K in 2020 due to Covid and the uncertainties of the world at that stage. As it turned out, we would have had a clear window for the race, but at the end of the day, I was happy to cancel. All 2020 entrants were instantly rolled into 2021.
I went under the knife in January 2021 to remove the cancerous lump on my cheek, and had to follow up with a 6 week bout of radiation treatment as it turned out that 1mm was still remaining after surgery. That 1mm has the potential to tap into a nerve and run around your body. The radiation was due to begin in May, and finish mid-June about a month before the WUU. It was going to be a busy time, and I ended up having to drive daily to my radiation treatments from the Wairarapa to Wellington, which was easily a 2 hour + round trip plus the 30-40 minutes it took for the treatment. 
Radiation is a funny (not ha-ha funny) thing. Each day you get just that little bit worse. You get more and more tired, and for me it was like a steadily increasing sunburn on one side of my face, neck and nose. I had a bleeding nose for months, lost all of my taste for about 3 months, and blistered up on my face and neck, losing all of my facial hair (which apparently will never grow back on this side of my face). My teeth have been affected with gums receding due to dry mouth, and my jaw has been affected so that I have to do my best not to get any teeth removed on that side as it can cause serious issues. I still feel tired and it's 2023!  All in all a terrible time, but a journey nonetheless, and one that I had to be on. 

Weather events


Bring on the WUU2K 2021! As stated above, I was not really feeling myself this year. I had a LOT of admin due to the deferrals from 2020, so I was doing my best to deal with this and getting as much help as I could from my core crew that year. Roll around to race week 2021 and the weather forecast was looking slightly bleak. In other years it has been similar really with the outlook for bad weather turning around the closer we got to race day. For 2021, however, it only seemed to get worse as the clock ticked down. 





I got a call from Metservice around 2pm on the Friday before race day, Saturday, and was told that I had to cancel the event, as the hills would be extremely dangerous to navigate. 'Can I get back to you please', I said. I had an immediate sit down with my crew and discussed the backup plan. We did have one in place, but not for a 100 year storm that was bearing down on Wellington at that stage. After some deep discussion, and people still rocking up to register, I called Metservice back to discuss the possibility of putting all runners on the 21km course instead. We talked in detail about the rain, the temperature and possible outcomes, and we both agreed this would work, albeit it would be VERY wet. I made the call. 
"We're sorry to inform you all, but the event will ONLY be run on the 21km course". It was a tough call to make after a 2020 cancellation, almost 1000 runners looking forward to an amazing run around the capital, myself struggling having just finished radiation treatment, and a weather event to challenge everyone! WTAF! Surely I'd pissed off someone to get slammed with this! So I acknowledged it all, jumped into the situation and went "Fuck it, let's do it". 
It was wet. VERY wet. Half of the runners made it through Red Rocks, with the later starters being turned back due to the high water levels. We sent them on a 'C course', up Happy Valley road instead. A lot of people chose not to run, and this was completely fair enough! The runners that ran in the event seemed to have a ball, with some later feedback telling me it had been their favourite WUU2K ever. Myself and the team helping on the day had a time of it I can tell you. The timing systems all but failed, first aiders had to do their best to collect a stranded runner who broke his shoulder at the worst possible area on course, we all did our best to stay warm in the crazy conditions and I was constantly in a state of stress hoping everyone was safe out there on the day. Should I have simply cancelled? I definitely don't think I want to host another event in those conditions, that's for sure!

Covid spikes


Moving into 2022, the event went forward without a hitch. The weather was amazing, we had an awesome field of 500 runners. The only downside for a lot of us was that covid spiked, which left a lot of runners having to withdraw in the week leading up to race day. Even Stu couldn't make it on race day due to the nasty little bug. He was sorely missed in 2022 as he generally runs the Tawatawa track on race day morning to check the markers. Every year, some lovely person seems to like moving the markers through here, and like clockwork, someone did just that. Anyway, it was rectified and the event carried on with everyone involved having a magical day of it. Long may it continue!

How things evolved

Since the first year, I evolved and started using an event registration system. It does make it a lot easier managing entries and payments along with merchandise orders, as opposed to trying to do it all yourself! It has all been a bit of a learning curve managing the registrations, but I still quite enjoy the process. I still organise all of the race packing, ordering, numbering bags, organising merchandise orders, packing, unpacking. The list goes on. But I love it.  
I have tailored and refined the medals over the years and to be honest, it has been quite the process! I went from making them the first year, to ordering them from different medal suppliers, changing them every year until the start of 2020. I made the trip down South to run the Shotover Marathon, and whilst in Queenstown I came upon a guy selling recycled glass jewellery outside one of the pubs. I had been trying to find a NZ local small business dealing in recycled products, and I literally just walked into him. We chatted for a while and I asked him if he'd ever made medals for events. 'Not at this stage, but I'd give it a go' he responded. That was enough for me. I sent through the logo, and after a bit of back and forth, we had the first year of the recycled glass bottle medals from
Brendon Jaine Jewellery
! Stunning. I'm using them every year for both events now, and they're an awesome take-home for competitors after the run.

Looking ahead

I want to see the WUU2K carry on into the future as it is such a great event for Wellington. The trails here are an amazing array of intertwining pathways that link up this stunning city of ours, and should be used by all of us. I give thanks to all of you who have invested in the WUU2K, either as a volunteer, runner, helper, crew and anything else that has helped this little event grow into what it is now. Without you all (you know who you are!) it just wouldn't be the event it is. A genuine trail running event for the community, by the community. 
The
WAI2K run fest
is the Sister event of the
WUU2K
. It will be on for year #4 in 2023 and is aimed for November 25th. The WAI2K is a slightly tougher event than the WUU2K and takes in some stunning trails from the Wairarapa to Upper Hutt in the Greater Wellington Region, and includes 12km/25km and the longer 50km/100km Ultra marathon categories. 
The WAI2K had its inaugural event in 2020, after the previous year planning it all, only to have Covid come along and ruin everything. Since then, it has been tricky to build up the event with a minimal budget. I do have a strong belief in the event I created though and the stunning trails it's run on. I believe it is only a matter of time before it becomes a sell out, must do, annual event. Ideally more funding would help me grow the event, so if you're keen to support in this way, let me know! For now, I'll keep on pushing on with it and do my best to persuade people to come and run the amazing trails that Greater Wellington and the Wairarapa have on offer.
Some words of advice for up and 'running' event organisers
Anyone wanting to get their own grassroots event up and running, make sure you have the time to put into the initial planning phase. The WAI2K for example took me around a year of pre-planning at least to assess the course, work out the distances, discuss consents and if it would actually work in the first place. There are a LOT of fine details to work through including red tape with access and permissions. Then you have to promote it with whatever budget you have, as best you can. I've always kind of liked minimal social media/email promotions myself and enjoy word-of-mouth marketing. Admittedly, I have pushed the social media element a bit more over the past year though.
For more tips on starting your own event, check out our
Event planning 101
and
Best Practices for a Smooth Event Registration Process
articles.
Thanks and gratitude


I really could not have achieved the successes of the WUU2K/WAI2K events without the ongoing support of the following people. These folk have stuck it out through thick and thin, and at times things have been slightly stressful! The events would never have happened without all of your ongoing help and support! 
Megan, Stu, Brent, Rhys, Cate, Brad, Jemma who have been part of the WUU core crew over the years. 


To all of the many amazing volunteers who have turned up, and pushed through at times very long days, and sometimes in crazy weather! 


To all of my supportive Sponsors and supporters over the years, including Mark and Fibi at TailwindNZ/ZeroTwenty2, Mark at Waitoa Brewery, and everyone else who has come on board in a support role since inception. 


The Wellington City Council have also been very supportive and have also helped with some funding over the past few years. 
To everyone else out there who has had their own personal journey with the WUU and WAI events, know that I appreciate every one of you, and I hope our events have helped change you as much as they've helped change me. 

Gareth Thomas
Gareth Thomas has never really had a set 'career' as such. He traveled the world working as a chef for many years, before settling into a job at Weta Digital in 2012. Here he also worked as a trainer in the roto department. While at Weta, he created the WUU2K and has since grown the business which now includes the WAI2K event. He is an avid trail runner, and has a keen interest in helping, and seeing people reach their goals.